Dr. Alan Abando, MD, is a dedicated, board-certified surgeon practicing in the Austin area. At his newly-built center, B + A Medical Aesthetics, he treats his patients with integrity, compassion, and exceptional skills. His talent for performing surgical weight loss treatments, employing technology-based treatments for body sculpting, skin rejuvenation, anti-aging, and physical enhancements for face and body are second-to-none in the area.
Background
and education
Dr. Abando began his education by graduating cum laude from Carleton College in Northfield, Minnesota, with a bachelor's degree in biology. He continued his strong work ethic and earned a medical degree with recognition from the honor society Alpha Omega Alpha from Rush Medical College in Chicago. Dr. Abando then went on to complete his general surgery residency at Huntington Memorial Hospital in Pasadena, California, an acclaimed hospital affiliated with the University of Southern California in Los Angeles.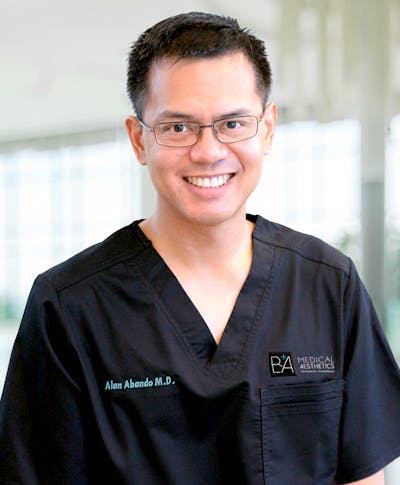 A notable career in
bariatric and general surgery
As an outstanding student who was well-respected for his work, Dr. Abando joined Huntington Memorial, which has the distinct honor of being designated as a Center for Excellence by the American Society for Metabolic and Bariatric Surgery. He spent two years at Huntington Memorial, where he also volunteered as a teacher at the hospital's general surgery residency program.
Credentials and
professional memberships
Dr. Abando's professional certifications include:
The American Board of Surgery
Fellow of the American College of Surgeons
He maintains current memberships in the following organizations:
Member of American Society for Metabolic and Bariatric Surgery
American College of Surgeons
American Medical Association
Texas Medical Association
Dr. Abando stays ahead of the curve on the most current, safest, and most effective medical procedures for his patients. He is dedicated to the overall wellness of each patient and looks forward to working with them to create the happiest, healthiest version of themselves.