Firm, glowing skin – nothing is more attractive. Unfortunately, your facial skin is always exposed, and in the hot Austin summers and cold winters, it easily becomes dehydrated, develops blemishes, or becomes dull or unevenly textured. An Austin HydraFacial treatment, performed regularly, will keep your skin looking fresh, hydrated, and glowing with health for a red-carpet-ready look.
What is a HydraFacial?
While topical treatments and creams can help keep your skin healthy and protected, over time, dead skin cells, environmental toxins, and clog your pores. A HydraFacial is a super-gentle, three-stage facial, that performs a series of actions:
Exfoliation: Step one is a customized, gentle exfoliation with a gentle solution and the specialized HydraFacial device that sweeps away debris.
Peel: A formula containing glycolic and salicylic acids is applied to your skin to loosen debris.
Extraction: Vortex suction gently extracts the debris in your pores and on the surface of your skin.
Skin-boosting serums: Your skin quality and health are enhanced with custom serums, appropriate for your skin condition.
Fusion: Antioxidants, peptides, and hyaluronic acid are infused into your skin.
What can a HydraFacial do
for my skin?
It is almost impossible to keep your facial skin fully hydrated, deep-cleansed, and refreshed without a regular facial. Many facial treatments are available, but a HydraFacial has specific benefits that you will appreciate:
Gentle, thorough cleansing and extractions
Appropriate for all skin types
Painless
Perfects pores
Minimizes the appearance of fine lines
Super-hydration infusion
Serums infused to trigger collagen growth
Blue light therapy penetrates the skin to kill bacteria and ward off blemishes

HydraFacials at B + A
Medical Aesthetics in Austin
Signature
30 mins

Deluxe
50 mins

Platinum
75 mins

Royal
90 mins

Cleanse
✓
✓
✓
✓
Peel
✓
✓
✓
✓
Extract
✓
✓
✓
✓
Hydrate
✓
✓
✓
✓
Infuse
✓
✓
✓
✓
Protect
✓
✓
✓
✓
Antioxidant Booster
✓
✓
✓
LED Light Therapy
✓
✓
✓
Lymphatic Drainage Massage
✓
✓
Dermaplane
✓
Décolleté
✓
✓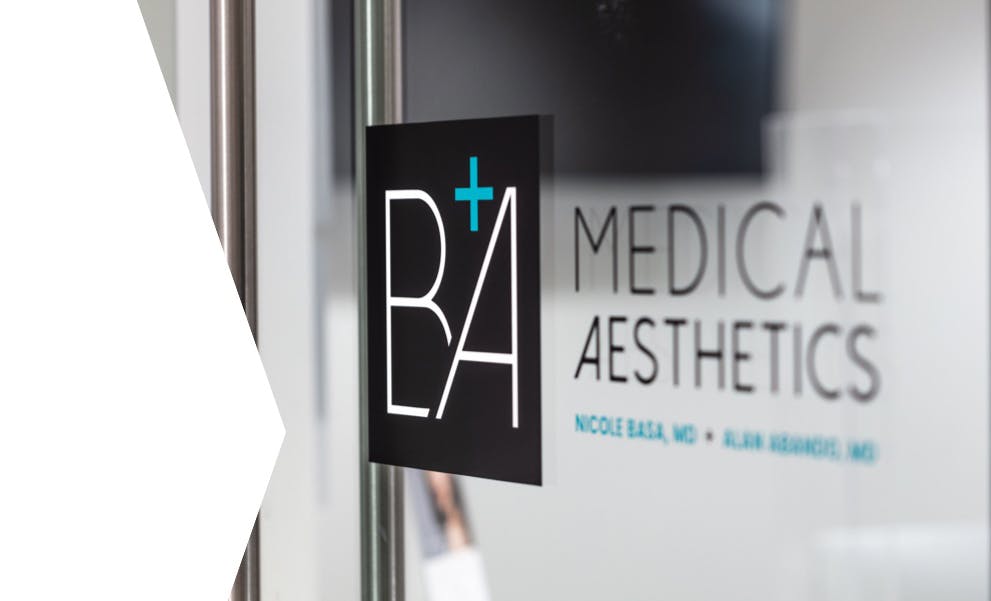 Booster serums
BrightAlive Boost: This booster serum minimizes skin discolorations and brightens your natural skin tone for a beautiful, hydrated glow. It is strictly delivered by professionals.
Growth Factor Boost: Infused into your skin to minimize the look of fine lines and wrinkles, and restore a look of glowing vitality to your skin.
DermaBuilder Boost: This serum is a perfect age-defying product, loaded with a combination of peptides to enhance skin elasticity and strength.
Britenol Boost: If you have developed hyperpigmentation, with sun spots and age spots marring your complexion, this booster serum minimizes their appearance for a more evenly-toned, fully refreshed look and feel.
Rozatrol Boost:

Helps relieve the visible signs of red, sensitized skin
Helps replenish hydration and support a healthy skin barrier function
Helps detoxify skin
How often should
I have a HydraFacial?
You may choose to undergo a HydraFacial in Cedar Park every two weeks, every month, or every six weeks for the best results. Your skin has a growth cycle, with fresh skin cells generated every five to six weeks.
For younger people or those prone to acne breakouts, undergoing a treatment every two weeks will help keep breakouts at bay. If you love having refreshed, glowing skin that is plump, hydrated, and healthy, we invite you to undergo the procedure frequently as part of your standard beauty regimen.
Why choose us
for a HydraFacial?
At B + A Medical Aesthetics, we focus on you and take all the time needed to evaluate your skin and advise you what we recommend to keep your skin looking youthful and healthy. We have a passion for skincare, and both our loyal clients and us love the results we achieve with HydraFacial treatments. Our skincare rejuvenation clinic is modern, comfortable, and equipped with cutting-edge technology, with every detail designed around you and your comfort.